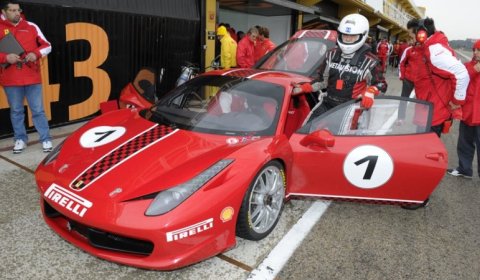 Introduced yesterday at the 2010 Bologna Motor Show we can now show you the first two videos of the Ferrari 458 Challenge in action at the Valencia circuit.
The first footage includes a wide variety Challenge Ferrari drivers which drove the new 458 Challenge on the circuit. Several drivers like the test drivers De Simone and Mediani as well as some Challenge drivers comment on the characteristics of this Berlinetta with a mid-rear V8-engine based on the 458 Italia.
The second video was shot by a Japanese Challenge driver named Hideki Onda who was one of the first drivers taking the 458 Challenge for a spin.
If you want to know more about this racing car than we suggest you check out Hideki's weblog.