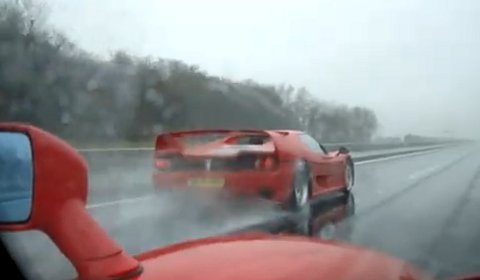 The following video shows a Ferrari F50 doing 120mph+ (193km/h+) in the rain. The F50 is a mid-engined sports car made by the Italian car maker Ferrari. The F50 was introduced in 1995 to celebrate the company's 50th anniversary. Produced in Maranello, they only sold 349 cars in total.
The two seat convertible has a removable hardtop and is powered by a 4.7 liter naturally-aspirated 60-valve V12 engine producing 513hp at 8,000rpm and a maximum torque of 470Nm at 6500rpm. The power is converted to the rear wheels via a longitudinal six-speed manual gearbox and a limited slip differential.
The sports car does a 1/4 Mile in 12.1 seconds at 198km/h and a top speed of 325km/h.