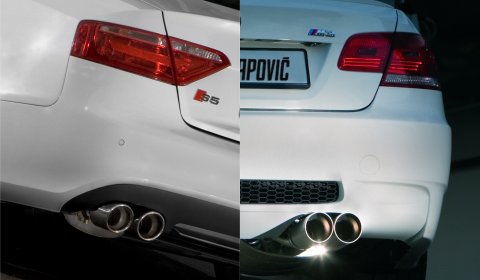 Please make your personal choice? Which one is the best; the Audi S5 with an Akrapovic exhaust or the BMW M3 E92 with a similar system developed by the Slovenian exhaust specialists.
The Akrapovic Slip-On exhaust system for the Audi S5 offers a power increase of 2hp and an additional torque of 14Nm. This performance increase is noticeable between 1500-3600rpm. The stainless steel system offers a weight reduction to the stock system of 4kg (using an optional link pipe). The soundtrack can be changed using a remote valve system.
The Akrapovic Evolution exhaust system for the BMW M3 consists of flow-optimized link pipes with 2×100 cpsi sport metal catalysts, integrated resonators and split Mufflers. The all-titanium exhaust system reduces the weight with respect to the stock system with a total 24kg. The power increase is 22hp and the torque 35Nm. The mufflers are also available as a Slip-On system.