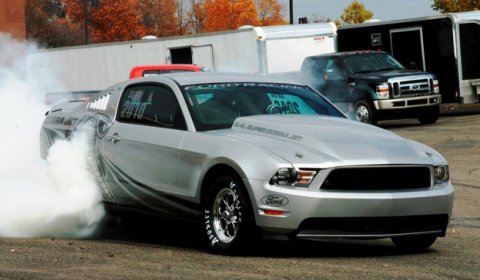 The first specifications of the upcoming 2012 Mustang Cobra Jet has been revealed by a Puerto Rican Ford dealer ahead of the official debut by Ford. Named after the legendary Cobra Jet drag racers of the late 1960s, the vehicle will have rebirth next year.
The 2012 Cobra Jet Content holds a revised 430hp 5.4 liter supercharged Aluminum engine with a 2.3 liter TVS Supercharger with twin 65mm dual bore throttle body linked to a three-speed C4 auto race transmission. The technical setup includes a double keyed crankshaft snout, Manley H-beam rods, improved low-drag racing brakes, improved rear suspension with revised rear upper control arm, lower control arm mounts, and revised and optimized spring rates front and rear.
New design black anodized Cobra Jet wheels with Goodyear Cobra Jet branded tires are outfitted to the drag racer. Optional colors are Race Red, Grabber Blue, and Winner White.
The picture above and the video below shows the 2010 Ford Mustang Cobra Jet in action.
[Via Autoblog.com]