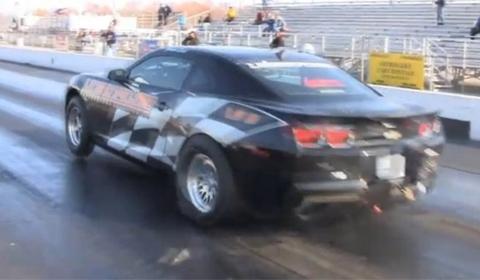 Next to dyno runs the best way to test the performance of your sports car is doing a quarter mile run. Lingenfelter has created a 1,243bhp strong monster based on the Chevrolet Camaro. The video below shows what it is capable off.
Eye-catching is the full interior which means that Lingenfelter didn't choose for a full weight reduction. The engineers have installed a LS9 V8 engine with an Eaton supercharger. By adding a set of long-tube headers, a two-stage nitrous system and twin fuel pumps the maximum output was created.
John Ebert, the driver, was able to wrestle this machine down the quarter mile in just 8.99 seconds at 158mph (253km/h).