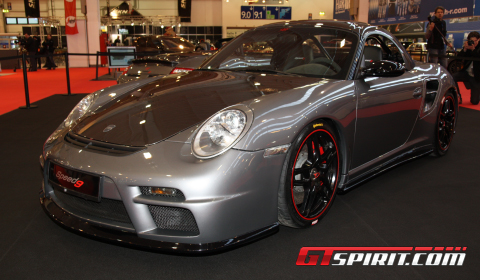 Revealed at Essen 2010 the 9ff Speed9 Bi-Turbo is a new project from the German tuner based on the 997 Turbo. Two versions are available – softtop and hardtop – both displayed at their stand and within the gallery below.
The Speed9's engine has been upgraded and produces 700hp and 910Nm of torque. The complete program includes numerous technical parts like a sport exhaust system, intercoolers, exhaust manifold, sport air filter, brake kit and an ECU upgrade.
The wide body kit includes a front spoiler, side skirts and a rear spoiler. The wheels are 19 inch center-lock wheels sizing in the front 8,5×19 inch – 235/35 ZR19 and at the rear 11×19 inch – 295/30 ZR19.
The upgraded interior includes a new Alcantara/Leather interior design, steering wheel, light weight seats, Alcantara dash board, Alcantara/Leather door trim and roll cage.