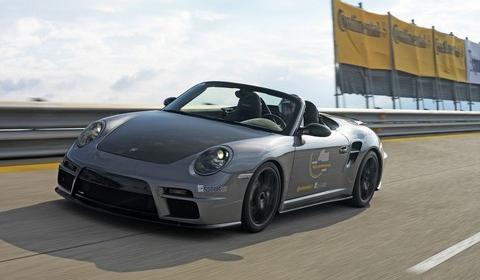 Next to GTurbo 1200 there is also the new Speed9 introduced at Essen 2010. Based on a 911 Turbo the guys from 9ff created a 700bhp strong monster adding a new exhaust system, F-700 VTG Turbochargers and a ECU upgrade. The power is coupled to a six-speed manual gearbox creating a true driving sensation.
Exterior parts consist of a special Speed9 aerodynamic package including a front spoiler, side skirts and a rear spoiler. Around the 19 inch rims you'll find Continental Force sport tyres.
At the inside you'll get a complete alcantara leather design with a 9ff steering wheel, light weight seats and a 'Speed9' roll cage. Last but not least, the roof top is available both as hard- and softtop.