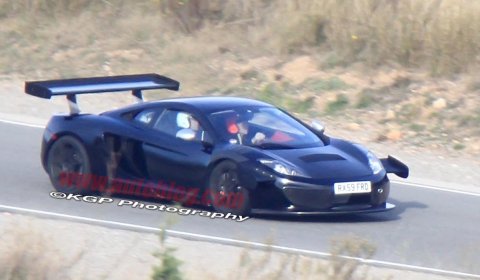 This is the first spyshot giving us all a first glimpse of the race-prepped McLaren MP4-12C GT3, a high-performance version of the standard road car. This GT3 racing car should follow the success of the McLaren F1 racer.
The motorsport package shown on the picture includes two front air intakes being closed off, a large air duct in the center of the hood, two tiny wings at each side of the front, rear window venting and a massive rear wing improving the down force on the rear axle.
Early reports state that McLaren is working with British racing firm CRS and that the car is set to debut sometime in 2012.
You will find more spyshots right here!