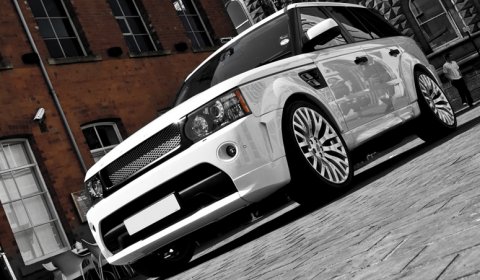 Project Kahn has announced their new 2010 Range Rover Sport Supercharged RS600 Autobiography Sport with a full Kahn Design conversion. The Range Rover Sport RS600 is the latest package from Project Kahn. The conversion consists of a new ten piece Kahn body kit complete with a sports exhaust system, colour code and interior trim.
The package includes a complete interior styling package which sees the introduction of the new bespoke quilted leather interior range to the front and rear seats, glove box and dash board. The steering wheel and gear shift have contrast stitching applied against the black leather. The speedometer, rev counter and clock, feature an electric blue color setup. Additional parts are the stainless steel door entry sills, side vents, foot pedals and the Kahn leather key ring.
The machined billet steering wheel is also available for the Range Rover and the Discovery. Manufactured in Italy and built using the original Land Rover component guarantees an exact fit, fully operational controls and driver airbag functionality. The standard frame is enhanced with a motorsports inspired contoured form and grip and finished in lightweight billet aluminum and leather.
Each RS600 is fitted with the Project Kahn Super Sound exhaust system. If that's not enough the RS600 you can get a performance upgrade offering a 600bhp.
Kahn 22 inch RS alloy wheel and tyre package are the final parts of this Range Rover tuning package.
The RS600 Autobiography with a full Kahn Design conversion is available as both left and right hand drive. Prices start at £ 73,835.