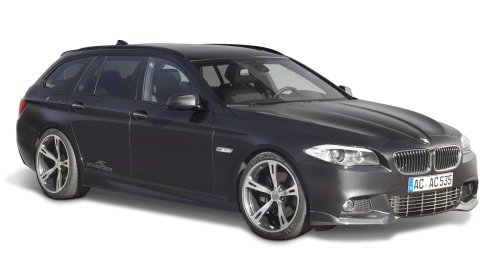 German tuner AC Schnitzer has released their package for the BWM F11 5 Series Touring, named AC Schnitzer ACS5 Touring F11. The specialists from Aachen have changed numerous parts and improved the performance of the new 5 Series.
After conversion, the BMW 530d develops 286hp, the uprated 535d got 360hp, while the 520d and 525d develop a 218hp and 245hp respectively. The AC Schnitzer engine styling with capacity logo shows what is concealed below the bonnet.
The AC Schnitzer twin sports rear silencer with chromed "Sports Trim" tailpipe trims (left/right) will soon be available for the 550i, 535i, 535d, 530d and 520d. Already the chromed "Racing" tailpipe trim is available for the 520d, 525d and 530d.
The exterior treatment includes new aerodynamic components for the touring and saloon with the M-Technik upgrade. The front spoiler elements and chromed front grille harmoniously integrate into the design. AC Schnitzer side skirt elements for vehicles without the M-Technik upgrade are also available as an option with chrome design elements. The bonnet vents provide the necessary air supply below the bonnet.
For the rear of the touring and saloon, AC Schnitzer has developed various elements. Both versions can be fitted with a dynamics-enhancing rear roof spoiler. The special rear spoiler for the saloon is trimmed for minimum drag. The rear skirt insert is available for drivers of the 5-series Touring with M-Technik upgrade. The equivalent on the saloon without M-Technik upgrade is the matching rear skirt attachment. The new rear skirt protective foil with AC Schnitzer Logo protects both versions against scratches.
A new suspension spring kit is available which gives an improved balance between sports performance and driving comfort. In conjunction with the suspension, AC Schnitzer wheels with the corresponding tyres are available in sizes from 18 to 21 inch in various designs: Type IV silver, Type IV BiColor, Type V forged alloy wheels in BiColor and Type VIII BiColor, and the brand-new Type VIII racing forged rims.
The Aachen tuning specialist has also upgraded the interior of the 5-series Touring. Carbon interior trim in black "Exclusive" is available. The AC Schnitzer sports airbag steering wheel has optional carbon steering wheel spokes in black "Exclusive". The iDrive System Controller is available with aluminium cover, and pedals and footrests also come in aluminium. Foot mats and a boot mat of velours complete the interior range.