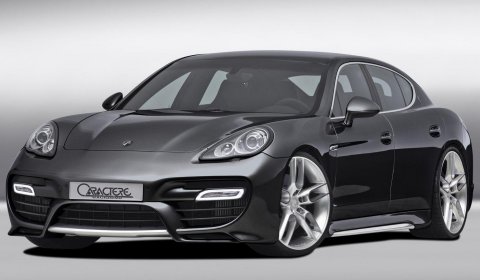 The Belgian performance tuner Caractère Exclusive is joining forces with the performance electronics engineer Dynatek to showcase the new programme for the Porsche Panamera, named Caractère Exclusive.
The aerodynamic equipment is composed of a front bumper with integrated lights. This bumper is compatible with all the options offered by Porsche. The sides are provided with a set of skirts. At the rear, they are adding a second spoiler as well as a bumper into which air scoops are inserted.
The original performances have been improved. The dyno test showed a power increase from an original 500PS to 605S and torque from an original 700Nm to 840Nm. Dynatek has replaced the two original catalytic converters with two 200-cell sports catalytic converters, and the original exhaust line with an approved Akrapovic line.
Additionally, Caractère Exclusive is offering CW1 Graphite or Silver rims 9.5×22 inch at the front and 11×22 inch' at the rear. These rims are also available in the same widths in 21 inch. The vehicle is fitted with Yokohama, 265/30 R22 at the front and 295/25 R22 at the rear.
For the interior trims the tuner is offering a set of carbon mouldings in various colours and different finishes.