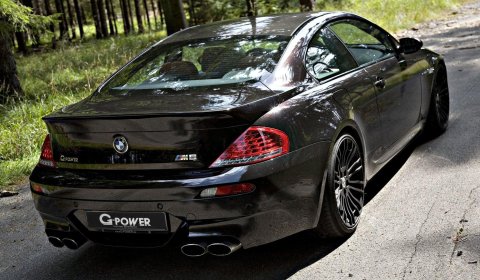 German tuner G-Power has revealed a new program for the BMW M6 – which reached its official end-of-life some months ago – creating the world's fastest four-seat coupe.
Following the G-Power BMW M5 Hurricane RR, the M6 received the same twin-supercharged V10 tuned up to 800PS (588kW) and 800Nm (590lb-ft) of torque. The acceleration from 0 to 100km/h is done in 4.35 seconds, to 200km/h in 9.5 seconds and the 300km/h mark is hit in 24.9 seconds.
The M6 Hurricane RR is fitted with 20 inch G-Power Silverstone Clubsport forged wheels, 9×20 at the front and 10×20 at the back, wrapped in 255/35Z R20 and 285/30Z R20 performance tires.
Pricing for the G-Power M6 Hurricane RR, including the standard BMW M6 car, starts at € 252,100.
Do not forget to check the review by German RTL2 program GRIP below!