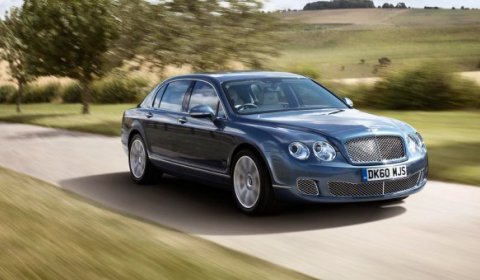 The Continental Flying Spur and its sporting stablemate the Flying Spur Speed are now available in a range of Series 51 designs, first seen on the Continental GT and GTC. Customers of both models may now select from a range of 14 Series 51 designs.
Bentley has reserved the limited-edition Sapelli Pomelle veneer for the Series 51 Flying Spur and a range of further options, including Bentley's leather trimmed child seat and scatter cushions for the rear seats, may also be specified. They have also created an unique Series 51 graphite-finished nine-spoke, 19 inch sports alloy wheel, while twin Series 51 wing badges, positioned behind the front wheel arches, complete the bespoke look.
All the latest Continental Flying Spurs, including Series 51 models, may now be specified with blue brake callipers and front wing vents. These sleek vents, positioned to the rear of the front wheel arches, are set into a tooled wing panel and feature a black or chrome mesh finish.
In addition, all Continental Flying Spur and Supersports models are now specified as standard with a 30GB touchscreen infotainment system. An 8-inch screen displays the car's audio system, telephone, ride and comfort settings as well as the very latest navigation system, which uses both an in-car hard-disc drive and a DVD player to access route data. It also utilises dynamic navigation to avoid heavy traffic spots, locates destinations using geo-tagged photos from an SD memory card and is Google Maps-compatible for most markets.
The new 2012 model year Continental Flying Spur, Flying Spur Speed and their Series 51 design options, together with the 2012 Supersports coupe and convertible models go on sale from March 2011.