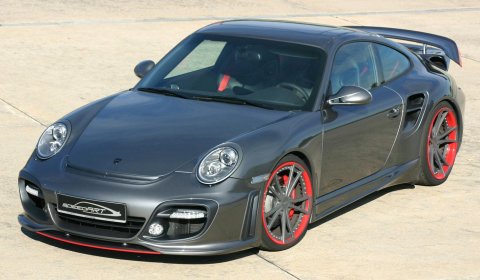 German tuner SpeedART has revealed the BTR-II 650 EVO based on Porsche 997 Turbo. The latest BTR-II 650 EVO is the worldwide strongest Porsche 997 Turbo with 650hp and over 900Nm. Additional to the impressive power the BTR-II 650 EVO is the only Porsche with an enforced PDK-gearbox.
The abbreviation BTR-II 650 EVO stands Bi-Turbo Racer, 2. generation with 650 hp and Evolution-body kit.
The power increase of 150hp and 150Nm consists of a modified motronic to enlarge the power boost in combination with bigger VTG-turbo chargers, a sport exhaust with sport cats and twin tail pipes plus sport headers/manifolds, sport air filter and enlarged intercoolers for a better heat dissipation. The acceleration 0-200km/h is just over 9 seconds and top speed over 335km/h.
For power upgrades over 900Nm and 650hp an enforced PDK is required. The multi-discs in the gearbox are enforced. Standard are six rings for inner and outer multi-disc-packet. The enforced version has eight rings for each packet. So the enhanced surface of the rings is able to put over 30% more torque from the engine to the wheels which is required especially while using launch control starts and race track performance.
The body kit BTR-II EVO consists of a new designed front bumper with spoiler lip and gun-metal frames for more down force and better brake cooling (Only EVO-version), side skirts, rear diffuser and a rear spoiler with movable rear wing for an improved aerodynamic and more down force.
Three-piece screwed forged wheel set type LSC Forged in 8,5 inch and 12 x 20 inch are available in many different colours (for rim and center star). Tiress sizes are 245/30 ZR 20 inch at the front and 325/25 ZR 20 inch at the rear.
SpeedART outfitted the sports car with the adjustable speedART sport suspension type street race including PASM function.
On the inside the second generation Porsche 997 Turbo got a 340mm sport steering wheel with F1 shift paddles for PDK, enlargement of the power boost display up to 1,8 bar, carbon interior parts, stitched interior parts and floor mates, coloured safety seat belts and coloured instrument dials.