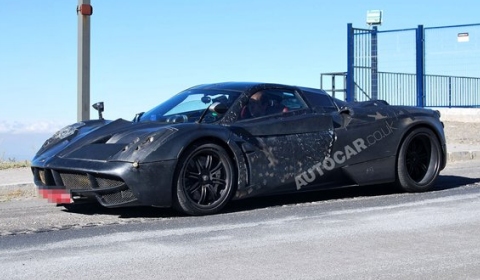 Pagani is working on a new 'Zonda'. The C9 is running through the development stages as we speak and ahead of its debut in Geneva. A new set of spyshots gives us all a better view on the brand new hypercar.
According to British car magazine Autocar, the new model is set to mark a radical shift in Pagani's engine configuration, transmission set-up, and even its manufacturing process. The engine is 6.0 liter twin-turbocharged V12 engine, producing around 700bhp and more than 730lb-ft of torque. Delivering more power the engine still complies to the Euro 5 regulation. The CO2 figure will be 50% lower than its competitors. The gear changes will be performed by a seven-speed sequential set-up, sourced from British transmission specialist X-trac.
On the subject of design it will have gull-wing doors, special air brakes at the back and be made from the ultra-expensive, ultra-lightweight carbon-titanium material. A kerb weight at around 1230kg is rumoured.
Surprisely, Pagani's original model will continue to be produced, in tiny numbers and on demand, alongside the C9.
More spypictures can be found here!