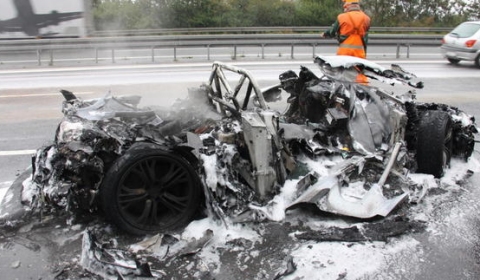 Car crash weekend has just ended in Germany. The weekend was packed with numerous supercars crashing on the high speed autobahn in the European country. A new member to the car crash or car fire family is the first limited Audi R8 GT you see here. Which means only 332 of the 333 limited series are left.
We know it is hard to distinguish the car, but it is really the new lightweight Audi R8. The German sports car got on fire after a serious crash hitting the median barrier in the course of 400 meters near Denkendorf on the A9.
The damage is € 200,000 for the sports car and € 10,000 of demolished barriers and road damages. The 33-year-old driver suffered no major injuries.
[Via Donaukurier]