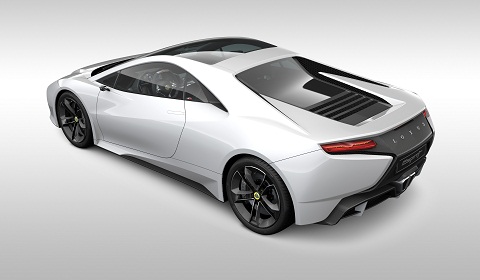 Lotus have announced the much awaited return of the Esprit at this years Paris Motor Show. The announcement was made to a packed audience and formed one of the five new releases that the English company bought to the show.
As you'd expect, the Esprit retains the supercar status of its historic predecessor. It's got a 5.0 liter V8 for starters, offering owners a staggering 620hp and 720Nm of torque. As you'd expect, Lotus have engineered a light frame ensuring the car weighs just 1,450kg; 0-100km/h (62mph) is achieved in 3.4 seconds and a top speed of 330km/h (205mph) is being quoted.
The mid-engined two-seater will feature an optional KERS regenerative braking system derived from Formula 1. A seven-speed DCT gearbox will feed power to the rear wheels.
Lotus intend to start production towards the end of 2012 with owners taking delivery at the start of 2013. Price will be around £ 110,000 (€ 128,000).
Lotus CEO Dany Bahar said:
The Esprit is the ultimate supercar. In the past when people thought of the Esprit, they thought of the movies, Bond, Pretty Woman, Basic Instinct but this time around, the car is the star of the show.

One has to be very careful when taking on the challenge of reinventing such an iconic classic as the Esprit – everyone has an opinion. There's a fine balance between acknowledging the greatness of the past whilst at the same time rapidly leaping forward to the future and ensuring that this car not only does the name Esprit justice but also the Lotus brand. I think we've managed to find the balance and in doing so created a new icon, a car people will find hard to resist.

Not only does the Esprit look incredible but it has the performance to match. We've stuck to the Lotus core values of performance through lightweight and teamed them with future technology and exceptional engineering to ensure that the Esprit will be the leader of the pack. The design is aggressive, you have to see it to appreciate how low and wide the proportions are but it still retains a level of dignity, of class and most of all exclusivity. I'm very proud of this car.