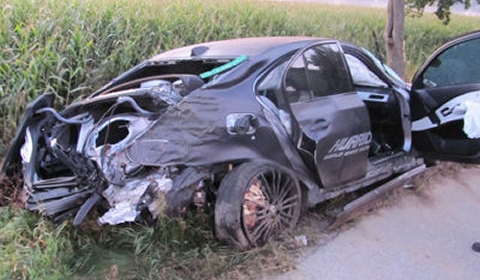 Thursday morning around 5:30 AM a 40-year-old French driver crashed his powerful G-Power Hurricane RS or RR on its way from Weilach to Autenzell in northern Germany.
We are uncertain which tuning kit the owner installed on his BMW M5 (RR or RS), but at high speed he lost control of the vehicle and crashed into a tree. Both occupants were able to leave the totally demolished car unharmed.
Some small inside information! The Hurricane RS broke the world record in November 2008 to become the worlds fastest road legal production sedan. G-Power has built on the success of the Hurricane RS with the Hurricane RR. This car reached a verified 372,1km/h (231mph) a few weeks ago.
You can read more about the accident here!