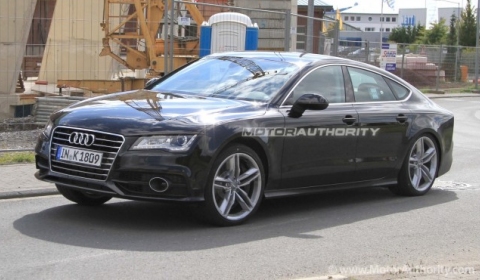 The guys over at MotorAuthority have come across the first spyshots of the brand new Audi S7. The main differences between the 'normal' A7 and the sportier S7 are the exterior and interior looks and the powertrain.
If you look closely at the external looks you will immediately spot large mesh panels taking the place of the lower air dams and fog light locations, creating additional air intake necessary for the rumoured 394hp 4.0 liter V8 engine and cooling for the larger brakes.
At the rear, the S7 mule has dual round exhaust pipes instead of the integrated trapezoidal units seen before on the concept. Additionally, it has an integrated hatch spoiler instead of the medium-sized standalone wing on the earlier prototypes.
The S7 will not be the most powerful member of the series. A RS7 is rumoured as well, equipped with a 5.0 liter V10 twin-turbo engine producing over 600hp. Both cars will feature four-wheel drive and any gimmick available for any other Audi model.
More pictures can be found here!