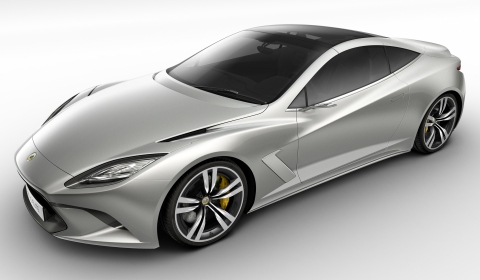 Ten days ahead of the official unveil at the Paris Motor Show Lotus has revealed their brand new Hybrid Elite. A sports car that will redefine "modern classic", according to the sports car manufacturer.
The Elite gives the first taste of what's to come from Lotus in the future. The retractable hard top version, the full hybrid transmission and the optional use of hybrid technology with KERS are brand new developments in the vehicle. The 2+2 is powered by an front-mid positioned 5.0 liter V8 engine delivering up to 620PS and 720Nm meaning drivers can expect to go from 0-100km/h (62mph) in approximately 3.5 to 3.7 seconds.
The total weight of the vehicle is 1,650kg. The vehicle is set for a release in spring 2014. Expected price tag is circa £ 115,000 including VAT at 17.5%.