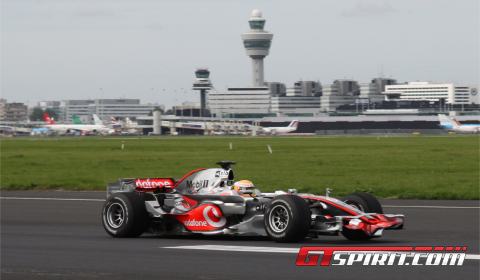 Spectators around the world and the GTspirit crew have witnessed an unique event today. Formula 1 driver Lewis Hamilton was challenged by Vodafone Netherlands to drive three races on Schiphol Airport's eastern runway and to compete against Vodafone's recently upgraded mobile data network. It is the very first time that a Formula 1 car has driven on a runway of an operatonial airport.
The network was represented by a virtual Formula 1 car, built up from 28,800 Facebook profile photos. Hamilton had to win passing a track of 4.7 km within the time it was required to download the virtual F1 car via the Vodafone network.
Hamilton had his 2008 MP4-23 available, winning two of three races. In his second run he got a fastest lap time of 108 seconds. The fastest lap of the virtual F1 car was 96 seconds. Despite the loss against a Formula 1 driver, Vodafone NL remains the first and only provider in the Netherlands that offers mobile internet with maximum theoretical speed of 28,8Mbps.
Check the video below for an overview of the runs!