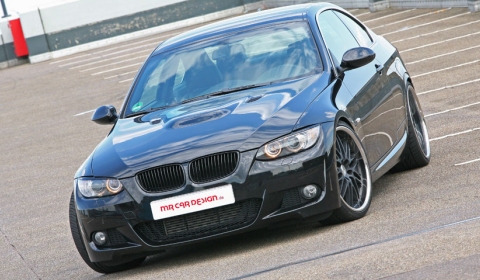 German tuner MR Car Design has revealed their Black Scorpion program for the BMW 335i. The package includes performance and exterior changes.
The standard performance of 306PS has been improved to 406PS and 530Nm of torque. The tuner replaced parts and outfitted the vehicle with a performance exhaust system (from € 850) which includes new catalytic converters, an XXL-intercooler (€ 899 including installation) and an optimized engine software (€ 849).
On the outside they installed Sprit alloy wheels from Breyton in 8.5 x 20 inch and 10.5 x 20 inch with high-performance tires 235/30-20 and 285/25-20. The complete set at MR Car Design is priced from € 2548 depending on the tires selected. The suspension got a new KW coilover suspension V3 (V1 from € 929). For € 1000 the tuner will istall an original hood from the current M3.