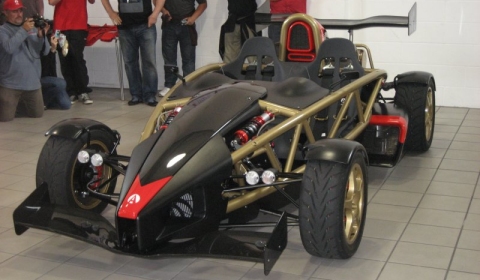 Ten years of Ariel Atom was celebrated by introducing the brand new Ariel Atom 500 V8. The lightweight, high-performance sports car has seen three iterations over the years. The new 500 version and an upcoming bike are new members to the family.
The celebrations included the construction of the new Atom in record time. Four Ariel employees started with a bare chassis at 10:15 AM and by 3:30 PM, they had a fully built Atom 500 V8, complete with fluids and an alignment. Quite impressive!
Initial reports stated that the Atom 500 would feature a 2.4 liter supercharged V8, but instead they have fitted a naturally aspirated 3.0 liter engine.
We can hardly imagine what sheer speed this car would produce. Just as a reminder, the current Atom does sub-three-second 0-60 times and will hit 100 miles per hour in less than seven seconds.
[Via Autoblog.com]