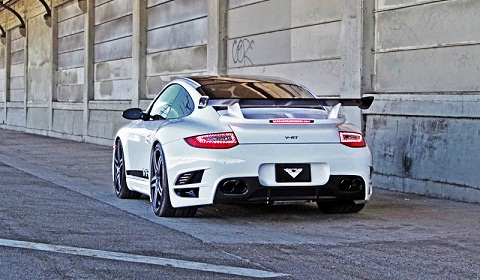 Vorsteiner have released final details on their V-RT kit for the facelifted 997 Turbo. A little over a month since we first heard about the car, we have details on the V-RT series aerodynamic and performance enhancements thanks to a dedicated micro-site.
Vorsteiner has used dry carbon fiber vacuum technology to provide customers with a stronger, stiffer and 40 per cent lighter body kit than the parts that make up the standard 997 Turbo. The new front spoiler loses the fog lights but gains add-on carbon fiber chin spoiler and larger duct openings to feed air into the front radiators.
At the rear, a carbon fiber decklid and wing blade increases rear end down force. To complete the package, a replacement carbon fiber roof panel removes 55lbs from the highest point of the vehicle, reducing the 997 center of gravity for improved handling.
As part of the kit, Vorsteiner offer one-piece monoblock aluminum wheels and high performance Michelin PS2 sport tires. There is a range of alloys on the Vorsteiner site, each offering an exclusive center locking option. For more pictures visit the site.