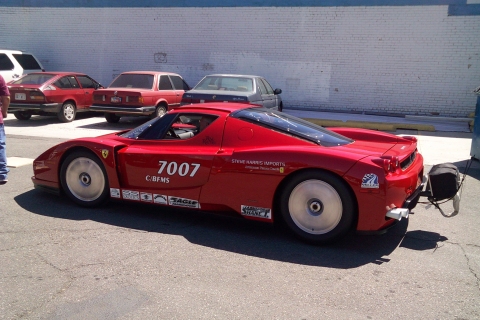 The Twin Turbo Ferrari Enzo pictured in this story will make its official debut at the Bonneville Speed Week this week. The salt flats will be home to the 1,000hp Italian stallion.
The car belongs to Richard Losee, who crashed the car at a rally in 2006 and decided to remake it in a more original guise as a salt flat speedster contender. This Enzo features twin-turbochargers fitted onto its stock 6.0 liter V12 producing a total of 850bhp (634kW) at a low boost of 11-12lbs. This is 199 more as stock! At a later stage the boost can be taken up to between 18 and 20 lbs, putting the power rating at around 1,000bhp (746kW).
The total package is more than power. The vehicle is fitted with slimmer tires, an aerodynamics-enhancing carbon fiber nose as well as a lowered suspension. The skin for the twin-turbo Enzo was donated by James Glickenhaus. It's the original body of the P4/5. The nose makes the car aerodynamically stable at speeds of around 483km/h (300mph).
The Bonneville Speed Week takes places this week in the Great Salt Lake Desert in Bonneville, Utah, 142km (88 miles) west of Salt Lake City. Stay tuned for more information on the final results!
[Via Jalopnik and Daily Derbi]