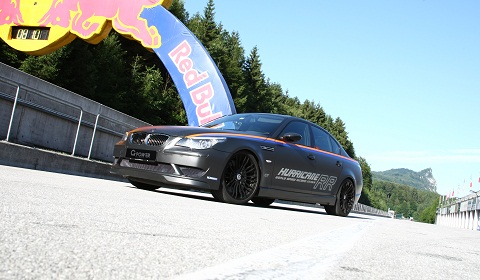 G-Power have built on the success of the Hurricane RS with the Hurricane RR. The car reached a verified 372,1km/h (231mph) after changing the tyres for smaller 19 inch units rated for a higher top speed. Another world record for a production sedan!
G-Power are now offering the same spec car to customers. The car includes redesigned ASA T1-316 twin superchargers, able to produce up to 900hp but limited to a reliable 800hp for this car. An aluminium unit replaces the standard air box providing an increased engine response and torque. MAHLE high-performance forged pistons have been installed, the standard connecting rods and piston pins where also replaced with stronger parts.
A new engine management system helps produce 800hp between 7,500 and 8,000rpm and peak torque of 800Nm at 5,000rpm. Needless to say, the figures are impressive. 0-100km/h (62mph) in 4.35 seconds, 9.5 seconds up to 200km/h and 25.8 seconds up to 300km/h.
G-Powers 'Highline' body kit is fitted to the car. It consists of front and rear skirts and spoilers, doors renderings and a rear spoiler. Each part is optimised to enable maximum downforce and aerodynamic efficiency.
For the speed record, the Hurricane RR ran Michelin Pilot Sport tires in the dimensions 255/35 ZR19 at the front axle and 305/30 ZR19 at the rear axle. For more normal applications a set of G-Power 20 inch Silverstone Clubsport wheels with the dimensions 245/35 ZR20 and 285/30 ZR20 front and rear are offered, again with Michelin tires.
A new high-performance braking kit and suspension set is carried over from the Hurricane RS. The coilover suspension is adjustable for both compression and rebound in nine settings.
Inside there is clear-coated carbon fiber panels for the dashboard, center console and door panels as well as a tachometer to provide accurate speed readings. Finally, G-Power offer an ergonomic steering wheel upholstered in Kjerba Nappa leather.
The price? From € 251,100. The conversion can be applied to either the sedan or the station wagon.