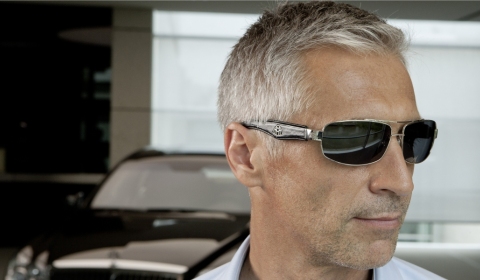 Maybach, the high-end car brand, has revealed a new eyewear collection to suite your exclusive luxury saloon. The eyewear is created by the German eyewear manufacturer IVKO. The lenses for the sunglasses are manufactured by Zeiss.
The various models are made of high-quality materials. These include fine wood, leather and natural horn, as well as titanium and 18-carat white, yellow and rose gold. Several stylistic features from the Maybach saloons have also been adapted for the eyewear design. For example leather-trimmed arms feature an artistically inset Maybach logo, metal elements on the arms echo the door sill panels of the high-end saloons, the piano lacquer on the wood and carbon fibre arms recalls the finish of the trim strips in the interior.
The Maybach Eyewear collection will be launched at the end of October 2010 and will be available via the company outlets. The total collection includes eight models of sunglasses in up to nine colours and ten spectacle frames in up to six colours. The choice will include lightweight, rimless models, metal-rim frames and natural horn-rim frames.
In addition there will be a Individual collection, which will cater to various special requests and customisation choices and features 18 carat gold details. 19 unusual natural horn tones are available, six fine wood or wood/carbon fiber combinations and ten lens tints.
If the car fits the driver why not a suitable pair of glasses to accompany him…