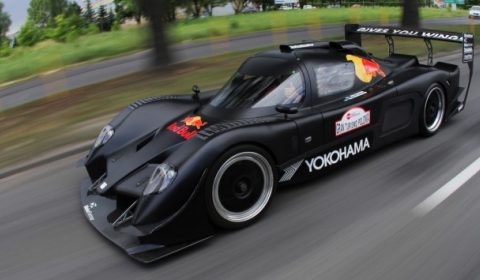 Everybody knows Jon Olsson because of his unique Lamborghini Murcielago LP670-4 SuperVeloce with straight-through exhaust and a ski box on top of the roof. Some of you may also know him as a Swedish-born freeskier and alpine ski racer currently living in Monaco. The latest chapter in his love of sports cars is his tuned Ultima GTR.
The Ultima GTR is one of the fastest accelerating and decelerating supercars of all time. The road-legal racer has a chassis capable of handling engines up to 1000hp, plenty of lightweight materials, laminated glass, a massive carbon fiber wing and a Chevrolet 6.3 liter V8 engine producing 534bhp and 528ft-lbs of torque, stock. The total weight of the vehicle is only 990kg.
This matt black racer was part of the GT Polonia 2010 event that ended today. Both Jon and Alx Danielsson drove the car during the week on local roads and race tracks in Germany and Poland. The vehicle is tuned up to a massive 800bhp and includes several changes and improvements.
You can follow Jon via his personal blog!