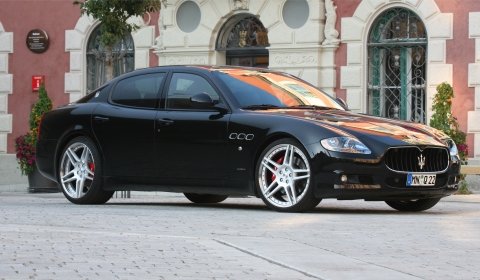 German tuner Novitec Tridente has revealed a new package for the Maserati Quattroporte S and Sport GT S. By addressing their compressor technology they have achieved a power output of 590hp (434kW) and a peak torque of 572Nm. Additionally the cars' appearance and driving dynamics are enhanced with three-piece 21 inch wheels, a height-adjustable coil-over suspension and a carbon fiber rear spoiler.
Novitec adapted a cogged-belt-driven mechanical charger to the 4.7 liter eight-cylinder four-valve engine. Maximum boost pressure is limited to 0.35 bar. A water-to-air intercooler with dedicated water circulation ensures healthy operating temperatures for the engine. The Novitec Tridente Sport compressor conversion is rounded out by a custom intake manifold and larger injectors.
After the engine conversion, which starts at € 19,900, the Quattroporte S jumps from standard 430hp (318kW) to 590hp (434kW) at 7,300 rpm. Simultaneously peak torque grows from 490Nm to 572Nm. In combination with the six-speed automatic transmission a sprint time of just 4.6 seconds from rest to 100km/h (62mph) and 14.9 seconds to 200km/h (124mph) are possible. The car's new top speed is 295km/h (183mph).
Novitec Tridente have developed a custom-tailored tire/wheel combination for the Quattroporte. The three-piece alloy wheels with five double spokes have the size 9Jx21 on the front axle and are mounted with Pirelli P Zero high-performance tires in size 255/30 ZR 21. In the rear size 295/30 ZR 21 tires are outfitted on size 11Jx21 wheels.
Finally, Novitec offers numerous options for the customization of the interior of the luxury sedan. The options range from a custom-tailored interior crafted from leather or Alcantara to a multimedia equipment package with TV, Blu-Ray player and a high-speed internet connection.