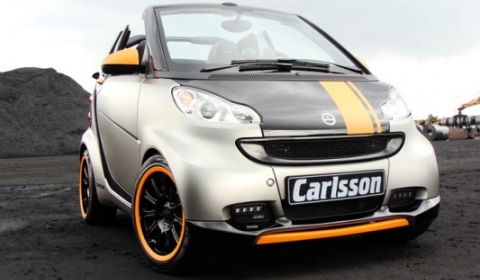 Carlsson has created the world's most expensive Smart. The vehicle is just a second car next to the one-of-a-kind 750 horsepower Carlsson C25 revealed at the Geneva Motor Show a few months ago. The twin turbo V12 Mercedes SL65 Carlsson was the basis for the sports car limited to only 25 units.
The Smart Carlsson C25 is one of the options available when requested so far by all the clients who choose C25 and want a exclusive second car with the same colors.
The basis is a Smart Cabrio body tuned exterior trim with the colors gray, black and orange stripe. On the technical side the German tuner installed springs, rims, tires, exhaust pipes and the new Carlsson Smart LEDs.
On the inside, a new exclusive upholstery in the same tone of the first C25: gray and orange, joins the interior accessories such as pedals or hand brake handle.
The price of this unique Smart is € 50,000.