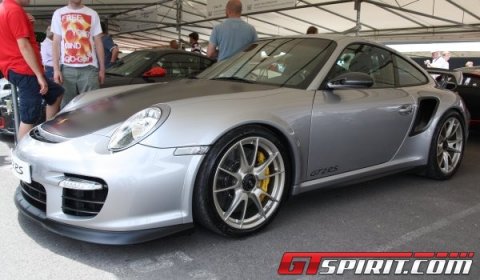 Porsche is displaying the 2011 911 GT2 RS at Goodwood Festival of Speed. This will be the first time the car is publically displayed. It is not 100% production ready yet so no pictures of the interior, however we did manage to get some exterior shots for you to take a look at.
The Porsche 911 GT2 RS is the most powerful street legal Porsche ever! It will lap the Nurburgring in just seven minutes, 18 seconds, power is up to 620hp, weight is just 1,370kgs (3,020lb) in road trim with all fluids on board.
Limited to just 500 units worldwide, the 911 GT2 RS will be available in the US October 2010 and will have a MSRP of $ 245,000. Price in Europe will be in the range of € 190,000 excluding taxes. The availability in Europe is not official yet, but we expect September 2010. The GT2 RS will make its world debut at the Moscow Auto Show on August 25th 2010.
To find out more, read our earlier article by following this link.