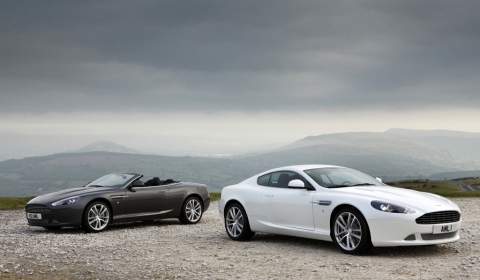 The British car maker Aston Martin has revealed the new 2011 Aston Martin DB9 facelift. Rumoured and spotted over the past few months the vehicle has finally reached its official status. The changes with respect to the new model include styling, engineering and equipment enhancements.
Subtle styling changes are visible in the new front bumper, radiator grille and a re-shaped lower intake featuring a hexagonal mesh. New headlight bezels, re-styled sills, silver brake calipers, 20-spoke diamond turned alloy wheels and clear rear light lenses complete the external revisions.
Under the skin the DB9's passive damping system has been replaced by a new Adaptive Damping System (ADS), which offers enhanced ride comfort together with sharper handling when switched to Sport mode. The ADS system is offered as standard equipment across the DB9 range, encompassing both Coupe and Volante (convertible). A new tyre pressure monitoring system, a revised Bluetooth microphone system and the addition of a new Double Apex alloy finish trim and Bang & Olufsen hi-fi options are also available.
Performance still comes from the 6.0 liter V12 engine, which develops an unchanged 470bhp and 442lb-ft of torque. The engine is mated to a choice of six-speed 'Touchtronic' paddle-shift automatic or six-speed H-pattern manual transmissions. A top speed of 190mph and the ability to hit 100km/h (62mph) in just 4.6 seconds finish off the complete story.
The Aston Martin DB9 is available as either Coupe or Volante (convertible) with rear mid-mounted six-speed manual gearbox as standard or optional 'Touchtronic 2' six-speed automatic transmission. Production of the revised DB9 is already underway, with deliveries commencing in July. Prices start from £ 122,445 for the DB9 Coupe and £ 131,445 for the DB9 Volante. US prices are not available yet.