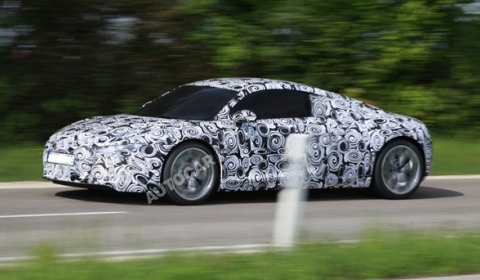 The electric 2012 Audi R8 E-tron, introduced at last year's Frankfurt, has hit German roads and has started the development program. The camouflaged four wheel drive electric supercar which will go on sale by the end of 2012. According to Autocar only 1000 units of the vehicle will ever be built.
Pricing of the new two seater has not yet been revealed. However, Audi officials say it will cost more than the R8 V8. The 2012 Audi R8 E-tron will also be shorter, narrower and lower than the standard R8.
The powerplant of the E-tron consists of four independent electric motors, one for each wheel. The total output of the vehicle will be 313hp and it will hit 100km/h (62mph) in less than 5 seconds. The top speed will be limited to 200km/h (124mph) to protect the charge of the battery.