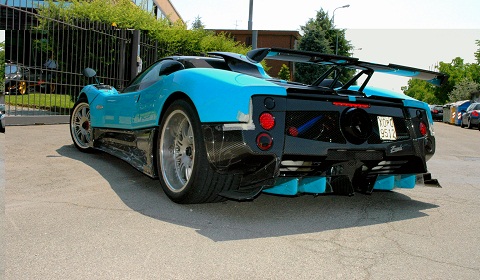 The latest in a series of exclusive Pagani Zonda's is the Zonda Uno, built for Ana Al-Thani. We have been lucky enough to locate a few extra photos and videos today so we thought we would share them! It seems the car was photographed outside Pagani HQ and looks to be almost finished.
From the photos we can tell you that the car features a unique exhaust system as well as the unique paint scheme. It is a roadster, most likely modelled on the Cinque Roadster, of which only five were built. The Uno badge appears to have been finished in black and the lower fins of the diffuser appear to match the Al-Thani body colour!
The photos suggest that the car is just finished its build schedule and the videos give us an idea of what the car looks and sounds like to drive. It looks likely that this could be one of the last Zonda's to come from the factory before the models planned succession by the C9 at the Paris Motor Show. Let us know what you think by leaving a comment in the box below!