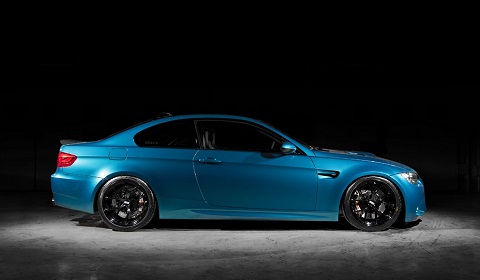 IND took the opportunity recently to give fans over at M5Board the chance to see the huge amounts of work that go into the cars they create. This time the company took as its base a 2010 E92 M3. On commission from their customer, a supercar collector who goes by the name of Nelson, the brief was simple; design and build a car that wouldn't look out-of-place in a garage among Ferrari Enzo's, Pagani Zonda's and Bugatti Veyron's. Here's a summary of the build and end result!
First, IND took to stripping the car completely and re-spraying the bodywork. The car came to the company with just 29 miles on the odometer. It took the company two days to strip the car before applying the new Atlantis Metallic paint job.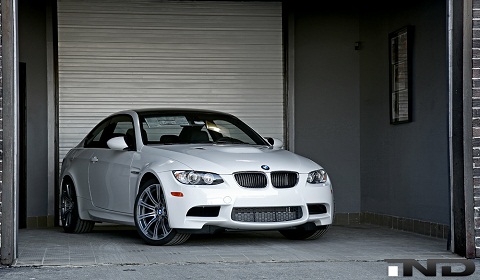 After all this, the car had to be re-assembled for delivery to the composites manufacturer and the upholsterer. KW ClubSport adjustable suspension and a Brembo 380mm brake kit were added as well as a Akrapovic titanium exhaust system.
The engine received an ESS Tuning supercharger kit which received black and Atlantis Metallic engine coverings to complete the look.
Next, the car made its way to Fall Line Motorsports where a custom roll cage was installed, machined from 1.75 inch .095 wall thickness chromoly tubing. Whilst it is not meant to be useful in the event of an accident, the roll bar does bridge the gap perfectly between the M3 GTS and one of IND's earlier projects of the same colour!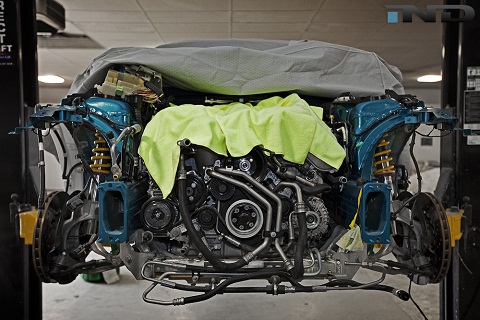 One of the most stunning areas of the car are the carbon fiber doors, the first time such doors have been fitted by a company other than the manufacturers (Ericsson's). Further to this, IND's composite manufacturer's were given just one week to commission a custom rear carbon fiber rear tub.
A set of BMW Performance seats were ordered and re-upholstered in BMW's original leather to match the headliner and dashboard. The seatbelt pass-through was re-painted in gloss black to finish off the unique look!
Small details are also noticable such as the re-upholstered gear shifter and the dials; necessary on account of the owners desire to use the car on track. BBS' FI wheels were added to the car before it was sent to be dynoed. The final figure came out at 522 horsepower at the wheels with just 6.5psi of boost from ESS' supercharger kit!
Whilst the car was finished at this point, the story did not end. The owner took th opportunity to display the car for the first time at the 2010 BimmerFest where it won 1st place in the best modified class. I think most of us would definitely agree that the effort that went into the build definitely paid off!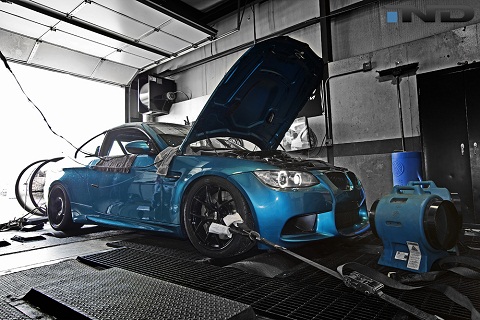 Just to show you where it was supposed to fit in…
[Via M5Board]