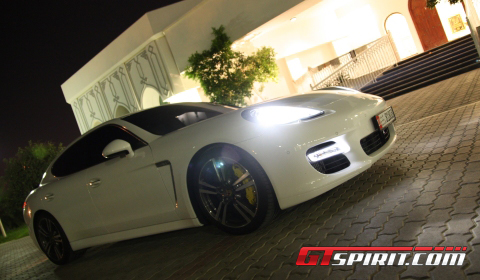 In some cases meetings are planned on the day itself, meetings with persons you did not anticipate on at the beginning of your day. Our chief editor had such a meeting in a palace of the ruling house of Al-Qassimi. The family rules the emirates of Sharjah in the UAE. There he met Sheikh Khalid Al-Qassimi, World Rally Championship driver for the BP Ford Abu Dhabi World Rally Team, and discussed his passion for rally racing and sports cars. Together they also checked out a small part of his personal collection of sports cars parked at the palace itself.
DS: Please tell something about yourself to our readers?
SKA: My name is Sheikh Khalid Al-Qassimi and I am a member of the ruling house of Al-Qasimi who rule the Emirates of Sharjah and Ras Al Khaimah. I was born at February 18, 1972 in Abu Dhabi. My profession is rally driver for the BP Ford Abu Dhabi World Rally Team.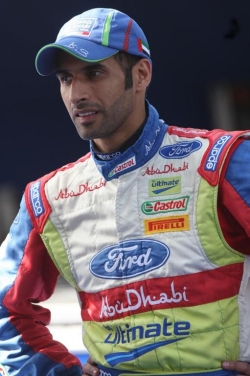 DS: What is your history in the rally world?
SKA: My rally career started at full pace in 2002 when I embarked on a programme in the Middle East Rally Championship, winning the FIA MERC Group N Cup and also the United Arab Emirates Rally Championship that same season. I returned to competition in 2004 to claim the outright MERC title. The same year I made my debut in the World Rally Championship, finishing fourth in the Group N category in Greece. During the following two seasons I finished second and third in the MERC, while also competing in several rounds of the WRC in a Group N car including driving in the Quasys P-WRC team in Cyprus in 2006 and finishing 3rd in this championship category. 2007 started with high hopes of a full WCR programme with MMSP in Mitsubishi Lancer World Rally Cars but this project fell through, but was resurrected with Ford in the second half of the season. I drove for entry and was classified as a finisher each time. This year I am driving again in the World Rally Championship with a Ford Focus RS WRC 08.
DS: What is your favorite and least favorite rally?
SKA: I love the Portugal rally, because of its terrain and stages. The concrete stages at the German Rally are way to slippery. It is hard to pull everything out of your car on that surface.
DS: Your passion for sports cars is shown in the line-up of vehicles you have. What sort of vehicles do you posses?
SKA: I have a pretty nice line-up of vehicles. The cars are parked in several garages around the country. I have a white and brown Porsche Panamera Turbo, a white SL 65 AMG Black Series which is unmodified, a SL 65 AMG Black Series in grey with straight pipes and better performance than the SLR McLaren, a modified Land Cruiser with 1100hp and custom-made manual transmission, an orange Lamborghini Gallardo LP560-4 with 620hp and a Mercedes-Benz G55 AMG. The most special cars are my Bugatti Veyron with cream / gold livery and my beloved Carrera GT which is currently being modified. Finally, we are working on a Toyota Prado which will have a modified semi-automatic gearbox which shifts like a sequential. The gearbox is completely custom-made up on my request.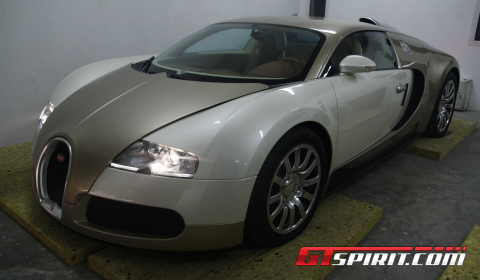 DS: Would you like to extend your collection with another car?
SKA: Nope, not really. First I had my doubts on buying the Veyron. In the end I did, so it is fine like this.
DS: What does tuning mean for you?
SKA: Tuning is something you do to improve the performance of the vehicle, not the looks. You should not change anything to the exterior or interior! A car got its esthetics from a car maker's drawing board, so don't fool around with it. I have got my own personal technical tuner. He is a German guy, car specialist and part of my team of people. He refines all my cars and he is the only one allowed to do it. I do not believe in tuning companies anymore. Ok, perhaps one, the best tuning company in the world; RUF.
DS:Abu Dhabi is the Official Destination Partner of WRC and you currently drive for an Abu Dhabi partnered World Rally team, why is the emirate so involved in the sport of rally?
SKA: The WRC is one of the pinnacles of international motorsport. It is a Championship filled with heritage that commands a vast fan-base around the world. With Abu Dhabi's strong rallying tradition the partnership was a natural choice for Abu Dhabi Tourism Authority (ADTA) back in 2007.
ADTA's World Rally programme helps Abu Dhabi market itself to the world via the WRC's huge global following and tremendous media exposure, particularly on TV. It helps us sustain awareness of Abu Dhabi as a world class destination of distinction. The ADTA's investment in rallying also plays a key role in Abu Dhabi's positioning of the emirate as a global motor-sports hub – and, of course, the hosting of the Formula 1 Etihad Airways Grand Prix is the ultimate testimony to that status.
DS: Is there anything you would like to say as a final statement?
SKA: I am official sports ambassador for Abu Dhabi in the UAE. It is important for me to emphasize that racing and more importantly rally racing belongs onto a closed track. Not on the open road! For me as a road safety ambassador I spread this important message within my country and help to improve the awareness of this subject between the people of the United Arab Emirates.
After the short interview we left the palace and got a royal guide back to Dubai. Khalid drove in front of the pack in his white Porsche Panamera Turbo guiding us home. We wish him all the best in this year's Word Rally Championship.