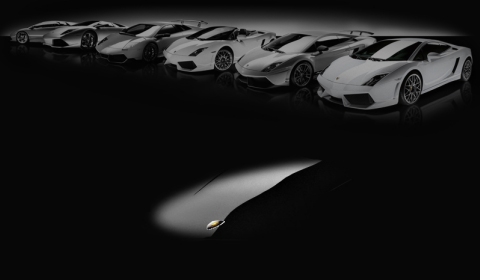 New 2011 Murcielago details and a teaser have been revealed. The information comes from an official Teamspeed insider. The person indicated that the presentation of the Murcielago successor to the dealers and VIP customers will take place in July. All official specs and the official name will also be revealed in July to the dealers. Official public launch is supposed to happen at Paris auto show this fall.
There are no new rumors about specs, everything being repeated once and again. Carbon fiber chassis, probably monocell, like the MP4-12C but a bit different. New direct-injection V12 producing up to 700hp or even slightly more with 0-100km/h rumored to be around 3.0 seconds and a top speed around 370km/h.
Body will feature some style clues from Reventon, but it will be all-new concept with clear Lamborghini DNA. Car will be shorter than the current Murcielago. The traditional scissor doors are sacrificed to lower the weight, which is rumored to be below 1500kg. The doors will open in a bit different way, to the side first and only then go up. The 2011 Lamborghini Murcielago Successor has new 21 inch wheels and upgraded Brembo carbon-ceramic brake system.
The price will be around the current LP640 price tag.