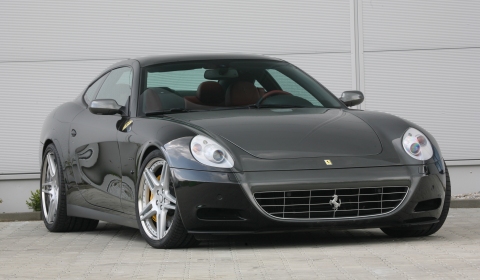 Novitec Rosso is probably one of the best Ferrari tuners around. At the beginning of 2010 we visited the German tuner at its factory. Their latest project is based on the 2003 Ferrari 612 Scaglietti, a four-seater that definitely deserves some attention again!
To make this Ferrari even more exclusive and enhance the level of customization Novitec Rosso now offers new accessories such as a custom-tailored tire/wheel combination in 20 or 21 inches. Performance is brought to a higher level by upgrading the engine to a total output of 565bhp and installing a stainless-steel sport exhaust system. New black taillights, reflectors, side markers and upgrades for the interior complete the package.
The refined 6.0 liter V12 engine has a peak torque of 609Nm at 5,300rpm which enables the driver to speed up to 325km/h (203mph). Before reaching the top speed you will be hitting 100km/h (62mph) in just 3.9 seconds.
New wheels feature a five double spokes and polished design that benefit the driving dynamics of the car but also and foremost the coupés appearance. In the P-zero tire technology from partner Pirelli offers the perfect ultra-high-performance tires for this tire/wheel combination that makes optimal use of the available space in the wheel wells.
Novitec Rosso upgrades the interior according to customers' personal preferences. The ergonomically shaped sport steering wheel comes in any color imaginable. Furthermore the customers can also freely choose the steering wheel's material as well as the thickness of the rim. The rim is flattened at the bottom for easier entering and exiting of the vehicle.