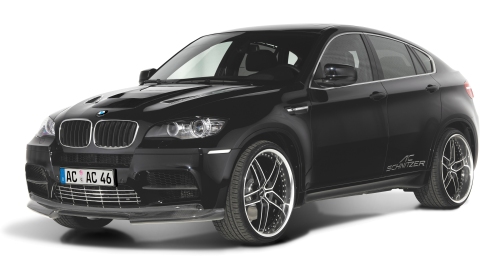 AC Schnitzer unveiled their X6M worldwide today following our the first glimpse in Dubai two months ago. The Aachen-based tuning company have gone to town on a car that many critics have questioned the motives behind. Whilst the promise of a performance upgrade is still a 'promise', the latest release show us just how far the odd-ball coupé can be pushed in terms of styling.
As always with the AC Schnitzer kits, the look is not to everyones taste. Body modifications include a re-designed front and rear spoiler, a new rear wing and a rear diffuser. Several changes have been made to the design elements of the front skirt and a new chromed front grille defines the cars style. Overall, the car sits 40 mm wider due to it's flared wheel arches.
Extra styling influences have been taken from the Corvette ZR1 with the inclusion of whats best described as an 'engine viewing window'. Around this, AC Schnitzer have machined a carbon fibre bonnet complete with air vents either side of the window. To give you something to look at through the window, AC have offered a carbon fibre package for the cars engine bay.
For the interior theres also a range of carbon fibre goodies including the new AC Schnitzer steering wheel. Options also include an aluminium cover for the i-Drive system controller, aluminium footrests and pedal sets as well as velour foot mats and a new speedometer that reads all the way up to 360km/h (223mph).
As wheels are AC Schnitzer's speciallity, theres a wide range including 20, 22 and huge 23 inch in Type IV BiColor, Type VII silver, black or BiColor, or the AC Schnitzer forged alloys Type V or forged racing rims Type VIII BiColor, with 275, 315, 295 and 335 tires.