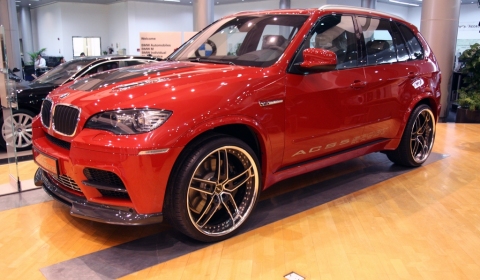 AC Schnitzer unveiled their offering for the BMW X5 M and X6 M at Dubai's AutomodEx exhibition about a month ago. During our trip we checked out both packages at AGMC, exclusive dealer of AC Schnitzer kits in Dubai, Sharjah and the Northern Emirates.
AC Schnitzer's body kit elements are all produced using the same material the BMW Group uses to produce its original components. Within both galleries you will spot similar parts, such as the wheels, a carbon engine styling optic package and new exhaust tips. The plexiglas panoramic window on the X6 M allows you to look through to the engine bay.
A performance upgrade is not available at this moment. The German tuner is working on a package – a combination of delimiting the Vmax and a sports exhaust – for both cars.
Front spoiler, rear roof spoiler and design elements for the front skirt and chromed front grille are all part of the exterior packages for both cars. The X6 M can also be outfitted with a carbon rear wing and carbon rear diffuser. As an option, the carbon bonnet vents with chromed centre web can be ordered too. For the X6 M – 1.98 metres wide as standard, they have adapted wheel arch extensions so that the BMW body gains an extra 40mm width each side.
The interior ambience has been refined with an instrument panel conversion – speedo and rev counter with AC Schnitzer logo, white dials, red pointers and red lighting – giving the X6 M a speedometer display up to 360km/h. The carbon interior trim and the steering wheel spokes in black exclusiv design are only available for the X6 M. The aluminium cover for the i-Drive system controller, aluminium footrest and pedal set, and velour foot mats are available for both cars.
The wheelarches of the sports SUVs can be filled with 20 inch, 22 inch or imposing 23 inch wheels in Type IV BiColor, Type VII silver, black or BiColor, or the forged alloys Type V or forged racing rims Type VIII BiColor. The wheels are combined with the 275, 315, 295 or 335 tyres.
The package for both cars differ, but overall it became clear that the X6 M program is the most extensive. Especially the panorama window in the hood is a nice highlight to the program.