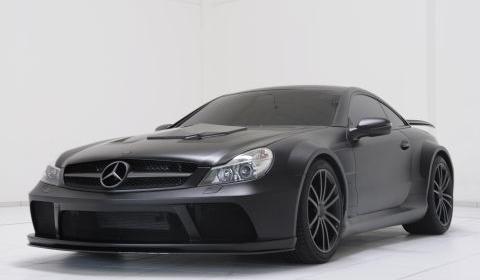 It is and it will always be like that, for some people a superb supercar is not just enough. Mercedes-Benz tuner Brabus created a kit for the SL 65 AMG Black Series. In figures the kit produces 800bhp together with 1001Nm of torque, a sprint time from standstill to 100km/h (62mph) in just 3.6 seconds and a top speed of more than 330km/h (206mph) is possible. They named their beast the 'Brabus T65 RS'!
The T65 RS tuning includes high-tech twin turbo system with two special exhaust manifolds, integrated turbine housings and high-performance turbochargers. Four giant intercoolers are placed under carbon fiber hood. The special stainless-steel high-performance exhaust system was specifically designed for the Black Series power upgrade.
Furthermore we can tell you that the sports car weighs just 1,795kgs (3,957lbs) and reaches 200km/h (124mph) in just 9.8 seconds. The T65 RS in the pictures is a one-off for a specific customer, but all parts used here will be available for any other SL 65 AMG Black Series heading to the Brabus shop.
Next to the massive power-output, Brabus also changed the interior with a sporty but elegant combination of the finest leather and Alcantara, giving it an even more striking ambiance. Options like special paint jobs and customization to customers' individual specifications are possible.