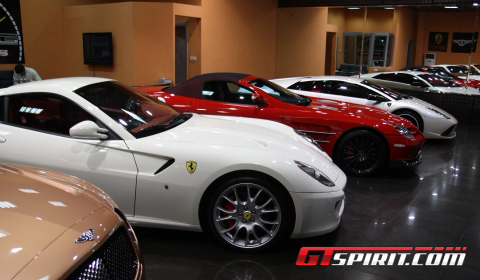 Established in 1999, the Used Car Complex in Ras Al Khor industrial area is a facility in the region of Dubai with more than 130 showrooms for sale and purchase of used cars. The complex offers services such as an auction area, insurance companies, car financiers, a technical inspection section, a vehicle licensing section, and a driving school.
The carmarket is a sprawling maze of cars great, small, expensive, cheap, unique and tuned. We visited the carmarket at Ras Al Khor near Dubai and found a large amount of Range Rover's, Ferrari's, Lamborghini's, BMW's and even several Rolls-Royce's and Bentley's waiting for their next owner.
The complex was filled with the most exclusive supercars and sport cars. Some were used, but most cars were imported from around the world.
The owners of the showrooms buy their cars cheap and sell them at much higher prices. So dealing is the key when you want to buy a car at Ras Al Knor! Make sure you check the mileage and the year it was build!
Check out our two galleries below showing a large amount of vehicles we spotted in Ras Al Knor.
Gallery 1

Gallery 2