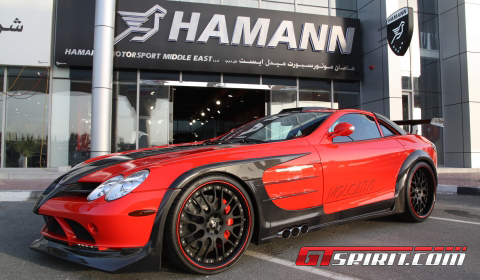 Dealer visits around the world give you a great view of how tuning styles differ, customer needs are being addressed and unique projects find their way to local customers. German tuner Hamann Motorsport is represented in the Gulf region by a local dealership in Dubai, UAE. We spoke with Amjad Nemer, general manager at Hamann Motorsport Middle East.
The dealership is located next to Sheikh Zayed Road, connecting old Dubai with the newly developed areas of the fast growing city. Started in 2003, it includes a small showroom offering space for four vehicles. The workshop is located at an industrial area nearby.
Hamann, Dubai offers complete packages for supercars and sport cars. Up on request they buy cars locally and tune them. Service is done via local like Mercedes, BMW and Lamborghini dealerships. Important markets are Abu Dhabi, Dubai, Qatar and Saudi Arabia. Demand in Oman is still small.
The future plans hold expansion to Qatar, Kuwait and maybe even Bahrain. Opening a second branch in Abu Dhabi is in the pen at this monent. The same goes for a new workshop and customer events planned by the end of this year.
At the dealership we spotted several unique tuning projects. The red SLR Volcano is the same vehicle introduced at the IAA in Frankfurt last year. Nemer sold already two Volcano's in white. The red version is still on sale and the yellow one is on its way to Dubai.
The most popular cars at this moment are the BMW X6 M and the Mercedes-Benz G55 AMG, mainly because the ruler in Dubai drives a G55 as his personal car. Three Hamann G55 AMGs are driven by the royal family. A clear statement that tuning and unique projects are key within the Gulf region.
On the pictures in the gallery below you will spot the red SLR Volcano, a white Hamann X6 M with an Arabian body kit and the Hamann M3 owned by Amjad Nemer himself.