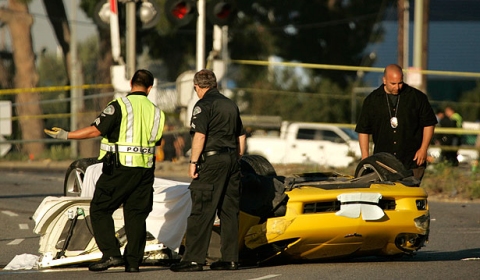 The tragic accident occured when a driver lost control of 2007 Chevrolet Corvette in LA, west coast USA. According to the LAPD, three bodies – two men and one women – were found lying outside the car with fourth one still inside the car.
The sports car was traveling at higher-than-usual speeds before losing control and hitting a guardrail. After slamming into the guardrail, the Corvette skidded for several hundred feet and crossed a number of railway trucks before stopping – upside down.
The crash left car and body parts scattered along a half-mile stretch of Roscoe Boulevard, according to news reports from the scene.
It is unknown why four people died, a Corvette only has two seats.
Check out the video below which includes the news report.
[Via Topspeed]