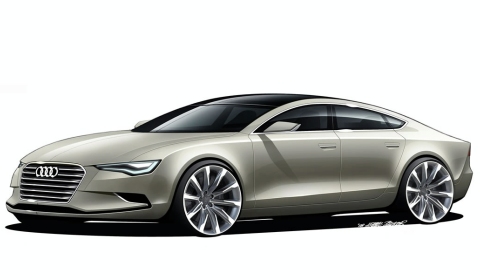 Audi's brand new family member the A7 Sportback is finalizing its development program ahead of its debut at the Paris Motor Show in September. According to Autocar, the sales will start March 2011 including a V10-powered RS sibling.
The A7 is the first model based on Audi's new mid-size platform, also used for next year's seventh-generation A6. The 4950mm-long A7 will meets its main competitor at the 2010 Paris show. The new Mercedes-Benz CLS is also set to be revealed at the Paris show.
The RS7 Sportback will be the top model running a 580bhp version of Audi's naturally aspirated 5.2 liter V10 engine in combination with the new seven-speed dual-clutch gearbox. Other models are outfitted with V6, V8 and V10 petrol and diesel engines.
The interior trim of the A7 Sportback will include a unique dashboard and nominal seating for four. A three-person rear bench will be offered as an option.
Stay tuned for more!