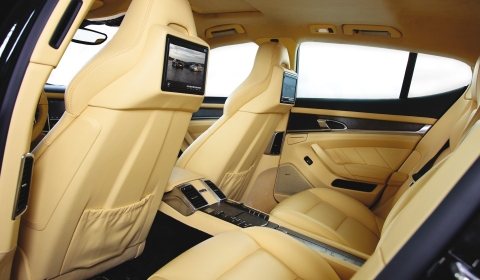 German tuner TechArt continues its Panamera 'story' with a new interior program for the German four-door luxury saloon. In addition to the existing range of interior options, a choice of several entertainment and comfort accessories has been added to the program.
There are two entertainment packages and rear fold-away tables, built into the front seats. The Entertainment Kit W2 includes two seven inch monitors integrated into the design of the front seats. Incorporated into the monitor console in the color of the vehicle's interior and located at the front seat backrests. A six DVD changer attends to media playback, hidden in the trunk of the car.
Another option is the roof mounted Entertainment Kit, available with a pivoting 10.2 inch monitor. The media console with DVD player and integrated USB host, framed in the leather or Alcantara, is integrated into the roof liner of the Panamera. Connection options for a memory stick or a hard disk drive are available. As well as playing all popular media formats, they also offer an infrared remote control and provide the passengers with stereo sound via wireless headphones.