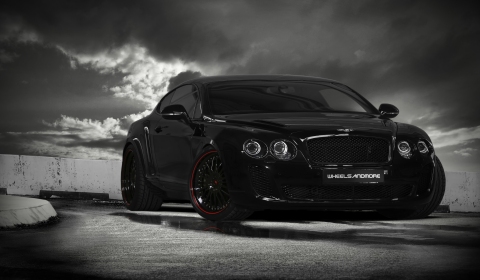 German tuner Wheelsandmore has revealed a set of custom modifications for the Bentley Continental Supersports. The program holds design changes and performance upgrades.
The tuner developed an ECU upgrade for the 630hp Supersports, combined with a handmade, stainless steel exhaust system. The system includes special sportcatalysts and a remote controlled valve flap system. The power increases up to 702bhp and 650lb-ft of torque.
The three-piece lightweight wheel set – shown on the pictures – is outfitted with C-Sport model sizing 10.5×21 inch with Dunlop Sport Maxx tyres front and rear, wearing a 4.5 inch outside lip in the rear. A special tyre approval allows a top speed of 209mph. The wheels are painted completely matte black with a red racestripe. Wheelsandmore is able to offer unlimited colour and surface combinations.
Finally, the suspension can be switched up and down by using an electronic lowering module called LowMaXX. It lifts up the car automatically around 0.79 inches at a speed of 44mph.