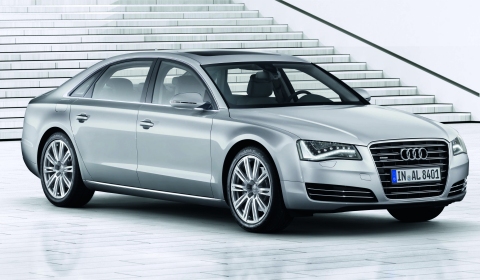 The A8 L W12 quattro, with a long wheelbase and a twelve-cylinder engine, is the top version of the A8 line-up. The Audi A8 L is being launched with a twelve-cylinder engine, but by the end of the year will be available with all the engines currently offered for the A8.
With an overall length of 5,267mm (17.28ft), the new Audi A8 L is 130mm (0.43ft) longer than the regular version. The wheelbase has grown by the same amount, to 3,122mm (10.24ft). The width remains unchanged at 1,949mm (6.39ft); the height has increased by 2mm (0.08in) to 1,462mm (4.8ft). Audi's new top model is both longer and wider than its main long-wheelbase competitors.
The A8 L has a body built from aluminum using the Audi Space Frame (ASF) principle and therefore weighing about 40 percent less than a comparable steel body. The ASF body structure is built up from cast elements, extruded sections and sheet aluminum, with integral B-posts made from form-hardened ultra-high strength steel. This body's tremendous rigidity is the key to the car's precise handling, low interior noise levels and high passive safety for the occupants in the event of an accident.
Among the high-end technologies featured on the A8 model line are the optional LED headlight units (standard on the A8 L W12 quattro) with all lighting functions performed by LEDs.
Subtle visual details distinguish the limousine from the other cars in this model line. The single-frame radiator grille with integral grid structure has a high-gloss black paint finish and special chromed horizontal bars. There are also chromed inserts of new design in the air inlets, and chromed applications on the exterior mirrors. W12 badges are displayed on the single-frame grille and at the rear of the car. The exhaust system has two trapezoidal-pattern tailpipe trims neatly integrated into the rear bumper.