Audi has unveiled the brand new Q7. The program for the German SUV includes a choice of three new V6 engines and an eight-speed tiptronic transmission. The design, accessory package and suspension setup stays the same for the complete line-up.
The revised engine line-up consists of two gasoline engines, both V6 units but with different power outputs and a second-generation V6 TDI. The V8 diesel completes the range. All the engines for the Q7 combine two technologies: forced induction and direct fuel injection.
Two versions of the supercharged V6 are available. The basic version develops 272hp (200kW) and has a maximum torque of 400Nm (295lb-ft) from 2,250 to 4,750rpm. The SUV accelerates in 7.9 seconds from 0 to 100km/h (62mph) and stops at a top speed of 222km/h (137mph) or 225km/h (139mph) with adaptive air suspension.
The more powerful version of the 3.0 TFSI delivers 333hp (245kW) and a torque of 440Nm (324lb-ft) between 2,900 and 5,300rpm. 100km/h (62mph) are reached in 6.9 seconds, with a top speed reaching up to 243km/h (150mph). The adaptive air suspension version hits a top speed of 245km/h (152mph).
The newly developed second-generation 3.0 TDI has a rated output of 240hp (176kW) and a constant 550Nm (405lb-ft) of torque from 1,750 to 2,500rpm. This V6 diesel accelerates the Q7 from a standstill to 100km/h (62mph) in 7.9 seconds and reaches its top speed at 215km/h (133mph) or, with adaptive air suspension, 218km/h (135mph). Audi also offers its customers a second version of the V6 TDI: the 3.0 TDI clean diesel. It already meets the exhaust emission limits laid down in the Euro 6 standard, which does not come into force until 2014, and the tough US regulations as well.
The Q7 4.2 TDI has drastically reduced fuel consumption and an unchanged power output of 340hp (250kW), delivering more torque than before. It now supplies 800Nm (590lb-ft) between engine speeds of 1,750 and 2,750rpm. It accelerates from 0 to 100km/h (62mph) in 6.4 seconds and has a top speed of 242km/h (150mph).
Audi has given all six- and eight-cylinder Q7 versions a new automatic transmission. The eight-speed tiptronic – based on the six-speed unit – lowers fuel consumption by about five percent. Drivers can choose between the D and S programs – or make their own gear shifts at the transmission selector lever or the optional steering-wheel paddles.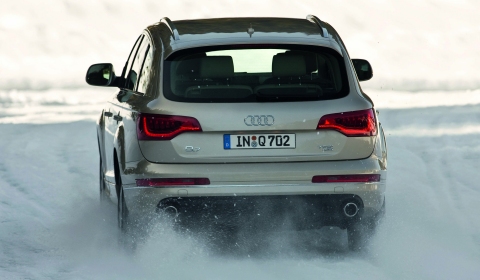 Last but not least. The most powerful diesel SUV in the world will still be available, but nothing really changed in the setup. The Audi Q7 V12 TDI quattro uses a 6.0 liter twelve-cylinder TDI engine developing 500hp (368kW) and delivers 1,000Nm (737lb-ft) of torque between 1,750 and 3,250rpm to the six-speed tiptronic transmission. With a time of just 5.5 seconds from zero to 100km/h (62mph) and a governed top speed of 250km/h (155mph), the Audi Q7 V12 TDI quattro is one of the fastest SUVs on the planet.