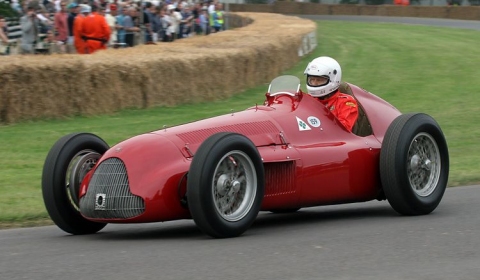 The British Motor Show is back in combination with the Goodwood Festival of Speed. This time people are able to drive a selection of vehicles on a special course instead of looking at them in a big event hall. The course consists of a 3.5 mile route which includes part of the famous hillclimb. The new name is Moving Motor Show. Visitors can attend the show on Thursday 1st July.
At this year's Festival of Speed it is all about Alfa Romeo's 100th Anniversary. The Italian car maker will celebrate by contributing a striking automotive "Central Feature" art installation which will be constructed in front of Goodwood House. The new Giulietta will be part of the show, giving interested customers their first opportunity to see the car and drive it up the Goodwood Hill.
Alfa Romeo will display fifty important cars from its Milan-based Museo Storico collection, like the pre-War P3, Monza, 12C-37, and 2900 B Le Mans cars, as well as the 159 'Alfetta', GTAm, Tipo 33, 185T, 164 Pro Car, and the unique V10-powered SE 048SP Group C prototype.
This year's Goodwood Festival of Speed will take place July 2-4 on the Goodwood estate in England. In addition to Alfa's centennial, it will be celebrating Italian automobiles in general with the "Viva Veloce!" theme, the 60th anniversary of both Formula 1 and the Carrera Panamerica, and the 50th birthday of the RAC Rally.
[Via AutoExpress]